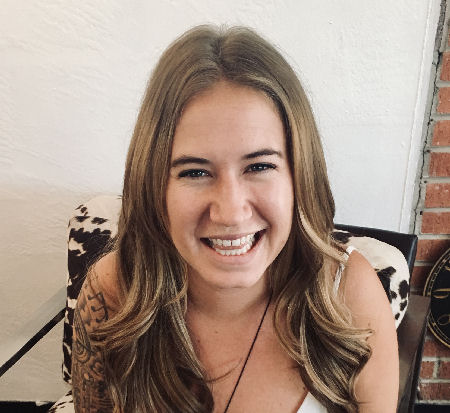 In Memory of Kristin Chavez
On January 8, 2021, Kristin Chavez (30), departed on her final journey to the most beautiful destination imaginable. With her parents at her side, she nodded one final goodbye, looked to express a final, "I Love You", and left the earthly body that had restrained her free spirit over the last 2 1/2 years. In May, 2018, Kristin was diagnosed with terminal brain cancer (glioblastoma). She accepted her diagnosis with grace and dignity; acknowledging a life for which she was grateful. As her disease progressed and her physical abilities deteriorated, her guiding light became even brighter. The love she radiated to family and friends never dimmed - her bright, infectious smile will be ingrained in our hearts forever. As a young child, Kristin challenged boundaries and sought a variety of new experiences. She danced, ice skated, tumbled, played soccer and was a high school cheerleader.
After graduating from UNM in 2012 with her B.A., she pushed those boundaries further by venturing off with a backpack and a plane ticket to spend her next 5 years traveling the globe. She bravely trotted across the continents by herself exploring people, places and cultures. She loved nature and being outdoors. She also loved working with children and often found jobs teaching English in faraway places. She visited 34 countries and lived all over the world including Vietnam, Cambodia, Thailand, Australia, New Zealand, Nicaragua, and South Korea.
Kristin was known in the family as our "Adventure Girl". Her family is comforted in knowing she made her final one-way ticket to an eternal paradise where her parents will no longer worry about her living quarters, job possibilities or safety! She is now tap-dancing with her Grandma Lucy Long, reading with her Grandpa Cy Long, and meeting her Grandpa Bob Chavez for the first time. She'll be getting to know her uncles David, Gary, and Greg Long and is surrounded by family love! Kristin is survived by her two loving parents, her two sisters, Afton and Jocelyn; her Grandmother, Bobbie Chavez; and numerous aunts, uncles and cousins.
Kristin changed lives for the better, whether it be the children she taught in developing countries, the friendships she cultivated at school (Double Eagle Elementary, Desert Ridge Middle School, La Cueva High School, UNM), the pals she made around the world, or the slew of cousins, aunts and uncles that she loved so dearly. We learned many life lessons throughout the last 2 1/2 years of her life -- about the purest form of unconditional and selfless love, positivity, and an inner strength that was incomprehensible. She lived authentically and without regret. She valued tolerance, gratitude, resilience, and finding beauty in humanity. Though she is no longer here with us, we know that her spirit will continue to guide us. We hope that her life lessons will be heard and lived as she did - to the fullest. Spread love and smiles; be kind and forgiving; seek knowledge and beauty; be fearless and seek adventure.
Our family wishes to thank everyone from the bottom of our hearts. Although this journey has been extremely difficult, the Chavez's have been lifted up by an outpouring of love and kindness. Our family, friends, and co-workers have been a beacon of light through the darkness. We wish to give a special thanks to UNM Cancer Center her hospice nurse, Alix Lewis-Coon, caregivers Cassadie Caldwell and Crystal Nelson -- who cared for Kristin with devoted love and compassion. Donations in Kristin's honor can be made on this page.
Due to COVID-19, a small, private service will be held with family at French Funerals in Albuquerque, NM and webcasted on Friday, January 15th at 5:30 pm. A celebration of life event will be planned for later in the year.
Donations In Memory of Kristin Chavez
When you make the donation below, we will already know it is In Memory of Kristin Chavez and we will send an acknowledgement of your gift to the family.

If you do donate, please consider checking to see if your employer has a corporate match policy:

If you prefer donating with a check, print out this page and mail it with a check made out to "Musella Foundation" to:
Musella Foundation
1100 Peninsula Blvd
Hewlett, NY 11557
888-295-4740 Phone
516-295-2870 Fax