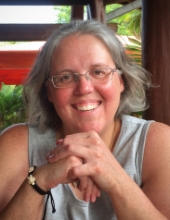 In Loving Memory Of Dr. Patricia "Patty" L. McPherson
It is with great sorrow that we say goodbye to the incomparable Dr. Patricia Leeann McPherson, M.D., who passed away 03/15/2023, at age 52, after bravely battling a devastating brain cancer for over two years.
Patty had an endearing independent spirit and charted her own course on her own schedule, always trusting her gut. She followed her gut (and her soul-sister) when she left Colorado for Alaska in 1993. She discovered a passion for Alaska's wilderness and spent her early adulthood experiencing mountaineering, hiking, camping, off grid cabins, snow machining, etc. While residing in Alaska, she decided at age 33 that medical school was in her future and landed a coveted spot in the University of Washington's WWAMI program. Putting her gifted mind to work, she excelled and continued her path to complete her MD. Never satisfied doing the minimum, when Patty turned 40, she was thriving in the midst of her five-year surgical residency in rural Tennessee. Unhappy with the disparities in healthcare access and services in rural areas, Patty decided to partner with Indian Health Service to give back to her Native community as a rural surgeon. Soon after, Patty relocated to Oklahoma where she proudly served her fellow Quapaw Tribe members as a general surgeon.
After her time in Oklahoma, she returned to Alaska (Sitka this time) to continue her surgical career in Indian Health/rural medicine. This magnificent location reignited her passion for Alaska's wilderness, and she promptly bought a 20' skiff made for Alaska's waters and spent her free time mastering her skills as a safe, well trained small boat captain while island hopping in Sitka Sound and beyond. Leaving Alaska this last time was a bittersweet departure.
As Patty was approaching 50, she relocated to Sterling, Colorado, where she was entirely embraced by her community and hospital. Having hit her surgical stride at this point in her career, Patty was treasured by her teams, the administration, and the patients that came to depend on her special brand of compassionate, competent care. She loved her work and possessed deep respect for her patient population in Sterling, many of them farmers and ranchers which she often referred to as the toughest, most hard-working people she had ever met. It was in Colorado that Patty discovered a passion for cruising through the mountains on the back of a cherished Indian motorcycle. She loved the hands-free experience of soaking in all there was to see and enjoying the music control, jamming to her choice of artists. Her most treasured repeat motorcycle event was the Good Ride Rally where she rode alongside her favorite artist, P!nk. The event organized by Carey Hart donates 100% of their proceeds to veterans in need which pulled at Patty's patriotic heart strings in additional to being an epic experience.
Patty's contagious smile, intelligence, and gregarious manner attracted countless people throughout her life and certainly aided her in capturing the attention of her life partner of 23 years, Tanya Smith. Tanya and Patty enjoyed frequent adventures (and many relocations) together and shared an incredible, bright, and enduring love. Patty also leaves behind her sister, Kelly McPherson, her parents, Tim and Zelma McPherson, extended family members, and her soul-sister of 40 years, Laura Buchanan.
Patty would want those that walked alongside her at some point during her life journey to know what a wonderful impact they had on her. She was deeply appreciative of her shared experiences with a wonderfully diverse group of people. She connected deeply with others and treasured moments of togetherness - playful ones, deep ones, foodie ones, ones that involved adventure and/or travel, and so many more. Undoubtedly, friends found her to be brilliant, funny, adventurous, and incredibly generous. Her life was richer for the connections she made and if you were lucky enough to be loved by Patty, you were loved endlessly and without condition.
Even as all are brokenhearted by this devastating loss, we are truly thankful for having had the chance to know and love such a beautiful soul. We are not planning a memorial event in the near future; however, her ashes will find their way to some of her most cherished places. There will be occasions for family and friends to celebrate fond memories. In lieu of flowers, please consider donating to Musella Foundation in her honor, as Patty was contributing her genetics throughout her illness in hopes it would help in finding a cure. It was important to her to help those that receive this devastating diagnosis in the future.
Donations in Loving Memory of Dr. Patricia "Patty" L. McPherson
When you make the donation below, we will already know that it is in loving memory of Patricia and we will send an acknowledgement to her family, but you can also add a message, or tell us how you want your name to appear on the acknowledgement in the memo below.

100% of donations made on this page will go to our brain tumor copayment assistance program, to help other families get access to the treatments they need!

If you prefer donating with a check, print out this page and mail it with a check made out to "Musella Foundation" to:
Musella Foundation
1100 Peninsula Blvd
Hewlett, NY 11557
888-295-4740 Phone
516-295-2870 Fax