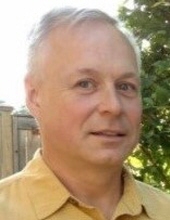 In Memory of Jeffrey R. Sadlowski
June 1, 1963 - August 18. 2021
JEFFREY R. SADLOWSKI, age 58. Dearly loved brother of Kathie Lipowski (Dan), Jerry, and Gerald Sadlowski; devoted uncle of Kristin Lipowski and the late Mark Lipowski; closest compañero of James Nagy and easy friend to many. Blessed with an exceptional intellect, Jeff readily excelled especially as a student, engineer and attorney.
In lieu of flowers, suggested charitables in Jeff's memory to the Musella Foundation for Brain Tumor Research & Information, Inc., 1100 Peninsula Blvd., Hewlett, NY 11557.
Celebration Service and Graveside Committal Tuesday, August 24, 2021 at 6:00 p.m. at the Lake View Cemetery Community Mausoleum. Enter at the Mayfield Road gate. Service will be live streamed on the funeral home website. Reception to follow the Graveside Committal at the Glidden House, 1901 Ford Dr., Cleveland, OH 44106. The family will receive friends AT THE MAUSOLEUM FROM 3 P.M. UNTIL TIME OF SERVICE.
Donations In Memory of Jeffrey R. Sadlowski
When you make the donation below, we will already know it is In Memory of Jeffrey R. Sadlowski and we will send an acknowledgement of your gift to the family.

If you do donate, please consider checking to see if your employer has a corporate match policy:

If you prefer donating with a check, print out this page and mail it with a check made out to "Musella Foundation" to:
Musella Foundation
1100 Peninsula Blvd
Hewlett, NY 11557
888-295-4740 Phone
516-295-2870 Fax