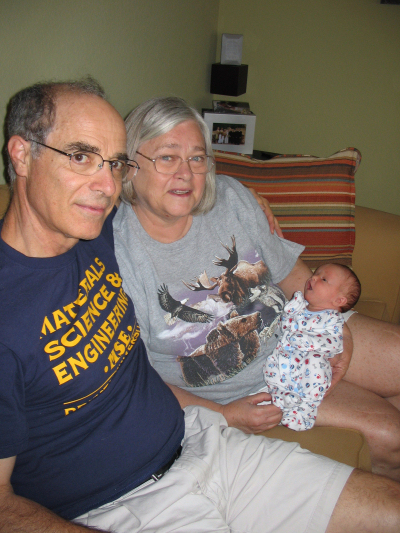 ---
This page last Updated:1/15/2022

Before brain cancer, I was a workaholic-never missing a single workday for my entire working career. At age 52, that was quite an accomplishment. I was a hard-driving "Type A" person, working more and more as my career advanced. I progressed from a Ph.D. in Engineering to a Research Engineer, Sr. Research Engineer, Assistant to a Tax Manager, Market Analyst, Sr. Consultant, Manager, then Director of Financial Planning, Plant Manager, Vice President, and then Sr. Vice President & a member of the Board of Directors. I got to travel all over the world except Australia. No challenge was too great. Simply, my career was my life.

All that changed at 3:05 AM on Friday, May 28, 1999; I woke up to a blaze of light and a lot of people I didn't know in my bedroom. I was wet with sweat and felt cold and clammy. There were the police, emergency medical personnel, my neighbors from across the street, my wife Lynda, and my daughter Karen all staring at me and looking anxious about something but I couldn't figure out what it was. There was a strong taste of peanuts in my mouth. I had eaten nearly half a can that night and figured that it had something to do with all the commotion. They lifted me onto the gurney and rolled me out the bedroom door, then the front door, and finally into the waiting ambulance. I felt fine, I really didn't understand. Finally, the EMT said, "You had a seizure and we're taking you to the hospital." I noticed that the siren wasn't on, so I just relaxed, still convinced that I was OK. There was no hurry. On Friday, June 4th, Lynda and I went to see Dr. S., a local neurologist, for a reading on the MRI. I remember saying, "Well, what is it?" There was an awkward pause and my anxiety rose as the doctor looked at the floor. He said, almost apologetically, "Well, a picture is worth a thousand words. Why don't you come see for yourself?" He took us into the next office that had lightboxes for reading X-rays. My MRI scans were in position already. I could see immediately that I had a brain tumor. The first scan showed a growth that looked like a miniature chili pepper pointing down into the left frontal lobe. It was about half an inch long and had a corkscrew- like twist. It looked very close to the top of my head, within ½" or so. "Finally", I thought, "a definite diagnosis." To a layperson like myself, it looked very operable. How little I knew.

I had surgery on June 15 at the Cleveland Clinic, waking up unable to speak and paralyzed on my right side. Pathology revealed an oligo 2 w/1p19q deletions and 3-5% mitotic features. As I was recovering from these, I had 54 Gy of external beam radiation therapy through July. However, my short-term memory was down to the 4th percentile, it took 50% longer to do things, and juggling multiple tasks was difficult. I went back to work part time, then full time on September 1. I was determined to overcome even these obstacles, however it was not to be, and my last day of work was February 15, 2000. I have restored most of my physical abilities with therapy and determination, mostly determination as I had only a few months of therapy. I am taking 500 mg b.i.d Keppra and 533 mg t.i.d. Bromelain(a COX-2 inhibitor like Celebrex). After thirteen years, almost all of my deficits have greatly improved. I go to Gold's gym every weekday, jogging on a treadmill and using machines and free weights. My strategy is to concentrate on doing things that are difficult because that is the only way to improve. I have had scores of MRIs, they look terrible, but there has been no change for ten years.

My priorities have changed: from work to family. I know my personality has changed for the better. Once you have had a brain cancer, all other problems seem trivial. We moved to Southern California in 2005 and travel a lot, now that we have the time. I have been an AARP tax-preparer for the past ten years; Lynda and I have been theater volunteers for the past seven years, and members of two book clubs. We love to visit our our oldest daughter, Melanie, her husband Rema, and our thirteen-year old granddaughter, Cypress in Corvallis, OR. We also see our younger daughter, Karen and her husband, John, who have a three year old son, Mason in Westminster, CO. I am still working just as hard as I ever did, but with changed priorities. I have no problems at all telling people I have brain cancer, even noting their horror that I could discuss such a thing so casually. I view myself almost as a missionary to spread the word that brain tumors don't necessarily mean sudden death. My new goal is to live long enough to die from something else.

---
Update: 4/21/2013

I have nothing new to report, but had an MRI on January 5, 2013 that showed marginal improvement. Not bad for a 66 year old geezer who has survived 13 1/2 years.
---
Update: 8/18/2013

Nothing has happened to my story for over eleven years, three years after my surgery and radiation. Lynda and I continue to volunteer at the local theater and on various school and government committees. I am still a volunteer tax-preparer for AARP and we travel alot. Just the fact that I am living life normally fourteen years after my surgery is significant in itself.
---
Update: 1/25/2014

No change, but my annual MRI at Cedars-Sinai will be on the morning of January 29th, with afternoon appointments with Dr. Ray Chu(Neurosurgeon) and Dr. William Chow(Neurologist). I feel great, so I don't expect to any changes then.

I have been a volunteer for the AARP Tax-Aide program for the past 12 years, and an instructor for the past 2 years. We prepare individual federal & state income tax returns and e-file them for free. Almost everyone qualifies, including fairly complex returns. Taxes are done in senior & community centers, libraries, etc., starting February 1st and continue through April 15th. Shut-in appointments are available. More than two million returns are filed each year. If you go on the internet to aarp.org and put in your zip code, you can find out where AARP works in your locale. You can't beat free and AARP trains and tests volunteers every year. I have personally prepared tax returns for 16 yr. olds and 95+ year olds. There is still time if you want to be a volunteer, no experience in accounting needed.

This service can be a godsend for brain cancer survivors because of the many credits available in the tax code for people in our situation.
---
Update: 2/21/2015

No change in health, but we have relocated to Highlands Ranch, CO from California to be closer to our younger daughter and two grandsons (1) & (5).
---
Update: 10/11/15

Nothing has happened, only one more year has passed. This make me a 16+ year survivor.
---
Update: 6/19/16

No change since my last report, except the 30th MRI - stable!
17 year survivor..........
---
Update: 2/8/18

I have been stable since my last Update:. I am now an 18 3/4 year survivor. I am now 71.
---
Update: 9/3/18

Nothing new here.....32 MRIs and over 19 years after diagnosis.......takes a licking and still keeps ticking!
---
Update: 2/19/2020

No change!
---
Update: 7/12/2021

I am a 22 year survivor of an oligodendroglioma and now use a walker, but I can still kick ass (just joking). Tomorrow, 9 of us, (2 daughters, 2 sons-in-law, 3 grandkids) will go to the Gaylord Resort for some quality time together.
---
Update: /15/2022

As a 22+ year oligo survivor, I have seen my daughters grow into adult women, Karen (41) and Melanie (46). I just learned at age 75 that I have hip tendinosis due to pursuing an active lifestyle. Fortunately, the outlook is promising with PRP. I currently rely on a rollator but hope that will become unnecessary. Currently, my Karnofsky score is 80.
---
Questions?
Send a message to Anthony!