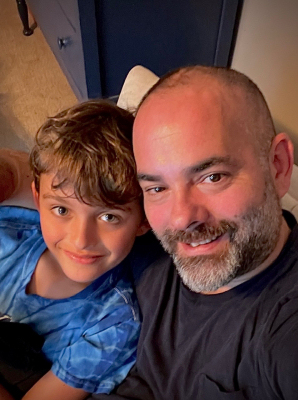 Last update 8/29/2022
My name is Tommy and I'm 46 years old. I grew up on Long Island not far from the Musella Foundation. I moved to California more than 20 years ago where I've worked in the entertainment industry ever since (I now live right down the street from Warner Bros. Studios). In 2015, I suffered a grand mal seizure while getting ready for work in my kitchen. At the time of my seizure, I was healthy and my son Jake was only a few months old at the time. Doctors then found a glioblastoma multiforme on the left side of my brain. The tumor was operable and doctors were able to remove it, leaving a large horseshoe-shaped scar on my head. Doctors estimated I had approximately 18 months to live. However, I was able to get into the trials for Northwest Biotherapeutics' (NWBO) innovative DC-Vax treatment and more than seven years later, I'm still alive.

I believe I have survived thanks to DC-Vax. I was fortunate and honored to have participated in the clinical trials under renowned UCLA neurosurgeon Dr. Linda Liau. I currently undergo an MRI every quarter and my scans have been clean and I see my oncologist Dr. Timothy Cloughesy regularly. Both Dr. Liau and Dr. Cloughesy have been exceptional.

While it is hard to definitively determine, DC-Vax is likely the reason my cancer has not returned. It's very possible that it saved my life and has kept the cancer from recurring all this time.

My recovery has been rocky at times: I've dealt with a lot of mental health issues and had to go to a lot of therapy and last summer I had two seizures on the same day, despite being seizure-free for years. And it's been difficult to work and I haven't had steady employment. But, for the most part, I'm doing OK. I've gotten the chance to watch my son grow up over the last few years: he's pretty big and athletic for his age and he's very fun and creative (I'm an artist myself). Jake is what gives me strength; on the days I'm in a negative place, he takes me away to his own planet. And I'm grateful for the support of my parents as well as my two sisters and their families. My ex-wife has also been very supportive; we are legally separated which has allowed me to stay on her health insurance.

Also, I've been working with my cousin, a former researcher/investigator to contact members of Congress and government regulators about short-sellers who have targeted Northwest Bio with disinformation. These attacks have harmed NWBO's stock price and pose a potential danger to the development of GBM treatment. My biggest fear is that DC-Vax actually works, but Northwest Bio will not survive the onslaught of negative information. I'm afraid the company will go under and file for bankruptcy and thousands of GBM patients will never have access to this potentially breakthrough treatment. We would like to hear from other DC-Vax trial participants who would like to help us in this fight.

It's important to remember that life has bumps. I try to "be like water", like Bruce Lee once said. And it's important to be patient and realize that some people can't handle the fact that you have cancer.
---
Questions?
Send a message to Tommy!