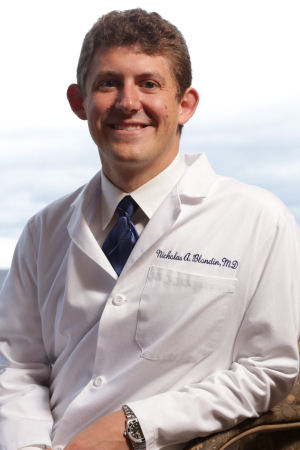 Nicholas A. Blondin, MD
Dr. Blondin is a Neuro-Oncologist who specializes in the treatment of glioblastoma, other primary brain tumors, brain metastasis, and tumor-related complications such as epilepsy, neurological disabilities and cognitive impairment. Dr. Blondin is the Neuro-Oncology Program Director at Associated Neurologists of Southern Connecticut, an affiliate of the St. Vincent's MultiSpecialty Group, in Fairfield, CT. He is also the Medical Director of the St. Vincent's Brain Tumor Center, in Bridgeport, CT. He is board certified by the American Board of Psychiatry & Neurology, as well as the United Council for Neurological Subspecialities.
Dr. Blondin is a life-long Connecticut native, having grown up in Litchfield, CT. He attended Wesleyan University for his undergraduate degree, and earned his medical degree from the University of Connecticut School of Medicine. He completed a neurology residency at Yale-New Haven Hospital, where he served as Chief Resident in Neurology, and he also completed a neuro-oncology fellowship at Yale. In his current practice, Dr. Blondin has served as a site Principle Investigator for numerous glioblastoma and brain tumor clinical trials, and he has a research program focused on complementary and alternative treatments for glioblastoma. He is an Assistant Professor at the Frank H. Netter School of Medicine at Quinnipiac University, and an attending physician at St. Vincent's Medical Center in Bridgeport, CT. Dr. Blondin serves on the Medical Advisory Board of the The Musella Foundation and the Connecticut Brain Tumor Alliance.
Dr. Blondin's website links are: