Musella Foundation Drug Discount Card
Also see:
Other Resources
for Avastin, Temodar, Gliadel and Novocure assistance programs.
Saves you up to 80% or more off of the cost of some:
Prescription Medicines
Over-the-Counter Drugs (with a prescription)
Pet Prescription Drugs
There is absolutely no cost (for the card), no risk and not even a registration is required. We do not even ask for your name. You take the card to your pharmacy, and ask how much the prescription would cost using this card and compare to how much it would cost without it. IF it is cheaper using the card - then use it! If not - don't use it! Even if you have insurance, compare the cost with this card or with your insurance card. Sometimes this is cheaper. (You can't combine the 2 - it is this card OR your insurance. Also works if you have no insurance!)
To get the card, Click this image, and a printable version of the card will open in a new window: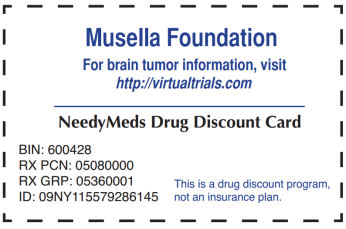 For more details and to see if a pharmacy near you accepts this card, click
HERE
and scroll down to the bottom of the page.
---
Also check the prices at
GoodRx.Com
Use whichever is cheaper. Please let us know if you use either one.