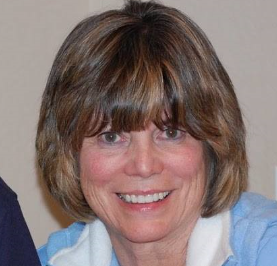 In Memory of Priscilla Erickson
July 16, 1940 to January 29, 2018
Priscilla joined a special choir of heaven's angels on January 29, 2018, after a valiant 13-month battle against glioblastoma, an incurable cancer of the brain. During this period, she established a legacy of courage, perseverance, and faith and will be remembered by family and friends as a constant beacon of hope in the face of a daunting diagnosis.
She also leaves a legacy of a loving husband, Don; three McCloskey children from her first marriage: Deena (Seattle), Eric (Chicago), Jason (Denver), and their spouses and six offspring. Beyond that she "adopted" three Erickson children from Don's marriage: Brenda LaCroix (Fairfax, VA), Scott (Denver), and Garth (Indonesia), and their spouses, ten children and five grandchildren. She was adored by all.
Priscilla was born in Passaic, NJ, went to High School in Monroe, NY and to Katherine Gibbs School in New York City. Over the years, she raised her children in a number of cities as she followed her first husband to key places where he was involved in the U.S. space program. Reston, VA had become her home base and in 1977 Keuka Lake became her summer retreat (until 1994, when she and Don moved to the lake year-round). She and Don also enjoyed and explored Celebration, FL where they spent many lovely, sunny days riding the bike trails throughout the state. Through all these places she has lived she leaves behind a symphony of dear friends and loved ones.
Priscilla was trained as an Executive Assistant which provided her entree into many important positions in her professional career, not the least of which was Executive Assistant to Arthur Kirk, President of Keuka College. She held this position for four years from 1982-1986. She also served as Assistant Registrar of Keuka College from 1994-2000.
Priscilla and Don are members of the United Methodist Church in Penn Yan, are participants in the Living Well and are members of the Yates County Chamber of Commerce. For twenty-three seasons, Priscilla and Don represented and promoted the beauty and appeal of their beloved Keuka Lake and the Finger Lakes region as owners and popular hosts of Tudor Hall Bed and Breakfast on East Bluff Drive.
Donations In Memory of Priscilla Erickson
When you make the donation below, we will already know it is In Memory of Priscilla Erickson and we will send an acknowledgement of your gift to the family.

If you do donate, please consider checking to see if your employer has a corporate match policy:

If you prefer donating with a check, print out this page and mail it with a check made out to "Musella Foundation" to:
Musella Foundation
1100 Peninsula Blvd
Hewlett, NY 11557
888-295-4740 Phone
516-295-2870 Fax