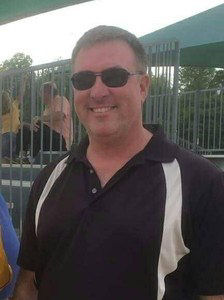 Robert Bruce "Rob" Crawford
1969 - 2020
Robert B. Crawford (Rob) age 51, of Holly Springs, NC died on Thursday December 10, 2020 after a 28 mo battle with brain cancer. Rob was born September 18, 1969 in Cleveland, OH and was the middle of three children born to Laura Lee Stafford and Robert B. Crawford. Rob grew up in Avon, OH and graduated in the class of 1988.In 1997, Rob married Heather Ziernicki of Chardon, OH. He is survived by his wife and their three children, Ian, Isobel and Kyle.
Rob was a long time resident of Chardon, OH where he and his wife ran a mortgage brokerage. He loved the community, where his in-laws, Ken and Isobel Ziernicki still reside, and this is where he and Heather raised their children prior to moving to Holly Springs, NC in 2014. In NC, Rob continued his mortgage career, partnering with his wife at Movement Mortgage.
In his spare time Rob loved participating in his children's activities, including being a Cub Scout den leader and helping at the baseball and football fields. He was a fan of OSU football, poker games, useless trivia, travel and various outdoor activities.
Rob was known to be a fabulous cook and looked forward to cookouts and holidays with family and friends. He had an easy-going nature, great smile, kind heart, and was always happy to help out others. Delayed Celebrations of Life will take place in 2021 to honor Rob. Rob's charity of choice was the Musella Foundation for Brain Tumor Research.
Published in News-Herald from Dec. 17 to Dec. 18, 2020.
Donations In Memory of Robert Bruce Crawford
When you make the donation below, we will already know it is In Memory of Robert Bruce Crawford and we will send an acknowledgement of your gift to the family.

If you do donate, please consider checking to see if your employer has a corporate match policy:

If you prefer donating with a check, print out this page and mail it with a check made out to "Musella Foundation" to:
Musella Foundation
1100 Peninsula Blvd
Hewlett, NY 11557
888-295-4740 Phone
516-295-2870 Fax