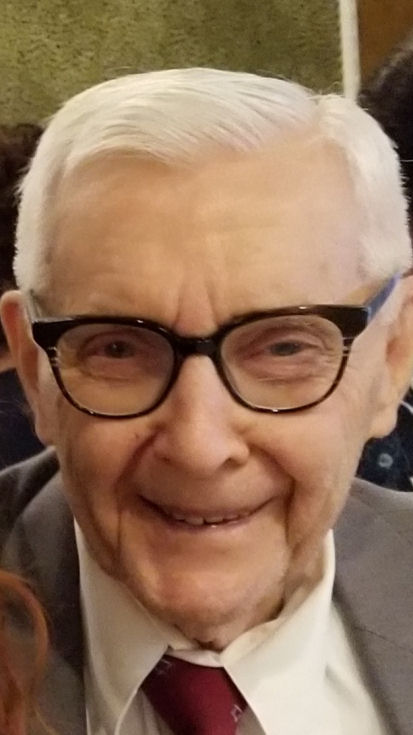 In Memory of Donald G. Freeland
Donald G. Freeland, 94, of Cranford, passed away on Wednesday, May 8, 2019. Born in Keyser, WV, Donald lived in Rahway, NJ for 71 years.
Visitation will be on Saturday, May 9, 2019 from 9-11am at the Mastapeter Funeral Home, 400 Faitoute Ave, Roselle Park, NJ. Funeral services will follow at 11am at the funeral home. Cremation will be private.
Donald worked as a comptroller with Ultra-Mar Petroleum for 35 years before retiring in 1983. After his retirement he owned Don Tax Service from 1983-2017.
Donald served his country in the US Army in the European Eastern Theater and served in the battle of Rhineland. He received his Masters Degree from Seton Hall University. He was also a member of the Lafayette Lodge #27, Rahway F&AM; former President of the Rahway Side Liners; taught Sunday School at Trinity United Methodist Church, Rahway and was a lifelong Methodist at First United Methodist Church, Westfield.
Donald was predeceased by his wife Elva. Surviving are his children, Nancy K. Clark (Michael), Rev. Herbert Freeland (Lynn) & Dennis Freeland; sister Alice Lough; grandchildren, Rebecca, Thomas, Nicholas, Jodie & great grandson Christopher. He was predeceased by his brother Harold & sister, Eloise Goetz.
In lieu of flowers, donations can be made to the Musella Foundation for Brain Tumor Research or Overlook Hospice.
Donations In Memory of Donald G. Freeland
When you make the donation below, we know it is In Memory of Donald G. Freeland and we will send an acknowledgement of your gift to the family.

If you do donate, please consider checking if your employer has a corporate match policy.

If you prefer donating with a check, print out this page and mail it with a check made out to "Musella Foundation" to:
Musella Foundation
1100 Peninsula Blvd
Hewlett, NY 11557
888-295-4740 Phone
516-295-2870 Fax