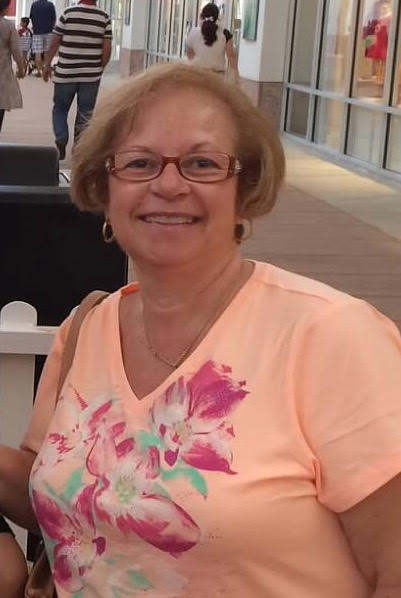 In Memory of Filippa Lisciandra
1955 - 2017
Filippa Lisciandra (nee Amore), 63, of Linden, N.J., passed away on Friday April 14, 2017, surrounded by her loving family, at Delaire nursing and rehabilitation center Linden, N.J.
Relatives and friends are kindly invited to attend the funeral at the Corsentino Home For Funerals, 620 Second Avenue, corner of John Street, Elizabeth, on Thursday, April 20, 2017, at 9:15 a.m., thence to St. Anthony's R.C. Church, Elizabeth, where at 10:30 a.m. a Funeral Mass will be offered. Visitation will be at the funeral home on Wednesday from 4 to 8 p.m. Cremation will be private.
Filippa was born in Ribera, Italy and came to Elizabeth, N.J., in 1960 where she resided until moving to Linden in 1993. Filippa loved her family and devoted her life to them. She enjoyed spending time with her grandchildren and watching them grow. She will be greatly missed.
A loving and caring wife, mother, grandmother and sister. She is survived by her beloved husband of over 45 years Giovanni Lisciandra. Cherished children Nick and his wife Michelle Lisciandra. Joe and his wife Heliana Lisciandra. Rosemary and her husband Arvin Liberato. Treasured grandchildren Giovanni, Mia, Luigi, Gianni and Luca Lisciandra and Michael and Gabriella Liberato. Sister Anna Zabbara. She was predeceased by her loving parents Giuseppe and Accursia Amore. In lieu of flowers the family requests donations be made in Filippa's memory to Musella Foundation for Brain Tumor Research, 1100 Peninsula Blvd Hewlett, N.Y. 11557 or directed to virtualtrials.com/Lisciandra or musella@VirtualTrials.com
Donations In Memory of Filippa Lisciandra
When you make the donation below, we will already know it is In Memory of Filippa Lisciandra and we will send an acknowledgement of your gift to the family.

If you do donate, please consider checking to see if your employer has a corporate match policy:

If you prefer donating with a check, print out this page and mail it with a check made out to "Musella Foundation" to:
Musella Foundation
1100 Peninsula Blvd
Hewlett, NY 11557
888-295-4740 Phone
516-295-2870 Fax