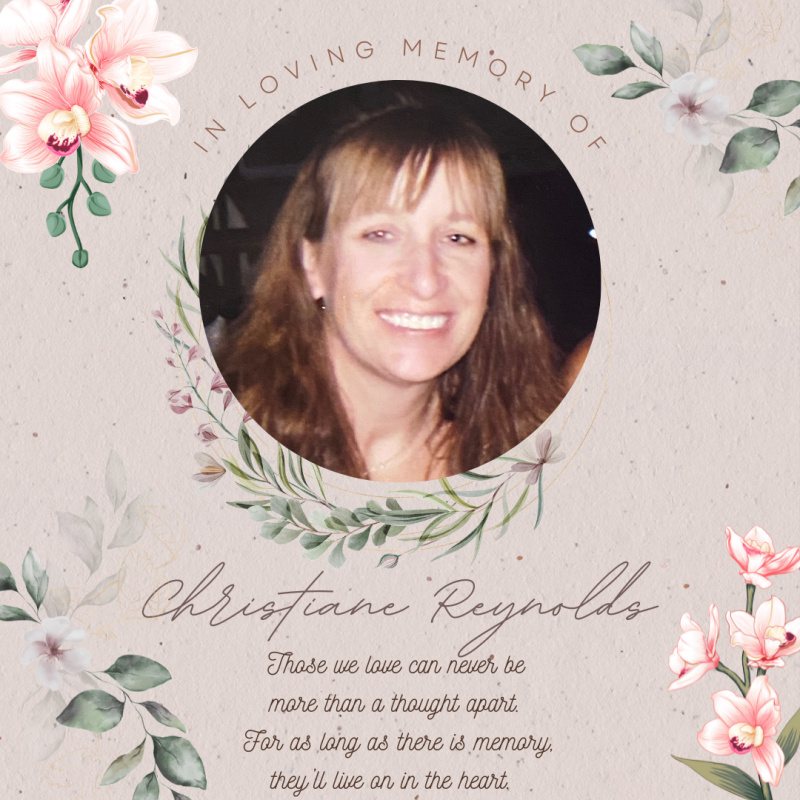 In Memory of Chris Reynolds
Christiane (Chris) Reynolds
4/23/1965 - 1/2/2022
Christiane (Chris) Reynolds was a caring wife, mother, nana, daughter, sister, and friend. She departed this world to be with Jesus on January 2, 2022, at the age of 56 after a two-year courageous battle against glioblastoma brain cancer. Her family, friends, and fur babies comforted her as she made her journey to heaven.
Chris was born April 23, 1965, in Fulda, Germany to Hellmut Horst and Ursula (Falkenberg) Horst. She was the youngest of four siblings, sister to Michael Horst, Ulrike Wiemers, and Matthias Geertz who reside in Germany. Raised in Germany with Lutheran values, Chris received conformation at age 14. Some of her fondest memories were traveling with her family to the North Sea in a VW bug. Her family contributed to her foundation to be a loving and caring person, always giving her time to others, and she incorporated those traits and ideals into motherhood.
Chris met the love of her life, James T. Reynolds, while he was stationed in Fulda, Germany. They married on December 2, 1983, at Stadtchloss Fulda, and shared a beautiful 38 years together. Shortly after marriage, Chris moved to the United States to embark on her life as a military spouse, mother, and lifelong learner. Chris was dedicated to visiting family and friends in Germany, as they were an important part of her life. She routinely traveled there, often bringing her family so that everyone could enjoy time together and build memories.
One of greatest joys was becoming a mother to her children Lisa Dean (Reynolds) and Daniel Reynolds. She was the light of their lives as she provided guidance, compassion, and ongoing support through the years. She treasured her children and embraced watching them grow and become a reflection of her light. Beyond motherhood, she loved her role as Nana to her grandchildren Connor and Leah. She cherished every celebration, tradition, and precious moments in between that they will carry with them forever.
Chris's academic and professional accomplishments were significant as she raised her children, and moved across the country multiple times as a military family. She earned her bachelor's degree in International Business from San Diego State University in 1992. She held multiple professional positions over the years but ultimately returned to school to pursue her passion with helping others.
In 2005, Chris returned to school at Pensacola Junior College to pursue her dream to become a Registered Nurse (RN). She graduated Magna Cum Laude in 2007 and received her first position as an RN at Sacred Heart Hospital as an oncology nurse. In 2014, Chris and Jim relocated to Pembroke Pines, FL and she continued her position as a nurse at Joe DiMaggio's Children's Hospital as a pediatric oncology nurse. Being a pediatric nurse was very special for Chris, as she cared so much for children. She uplifted children's spirits while caring for them, sharing love, hope, and compassion for her patients and families.
In January 2020, Chris joined Luke 9:2 Ministries on a medical mission trip to Honduras through the invitation of a friend. Chris loved this trip and grew spiritually from it. She gained friendships, met incredible people, and shared her compassion as an RN providing medical care.
Chris had a deep love for animals, and leaves behind her fur babies Bella and Henna and grand dogs Kindall and Achilles. She had many special fur babies throughout her life that she reunited with in heaven. Chris enjoyed volunteering and fostering dogs with the Dachshund Rescue of South Florida.
Chris enjoyed traveling and going on adventures with family and friends. Her heart embraced exploring new countries/cities and she carried these experiences with her. She especially loved skiing in the mountains, taking tropical cruise, and exploring landmarks throughout Europe. She was an avid reader and would get lost between the pages of stories, and loved connecting with characters and lessons in each book. She enjoyed quality time with family and friends playing board games, cards, or completing puzzles. Chris loved crocheting, and created many beautiful blankets for newborns of family and friends. The ocean was a place that brought her solace and filled her spirit. From boating in the intracoastal of south Florida to exploring the shores of the Gulf of Mexico. Chris will always be with us each sunset touches the shores that keep us all connected.
Chris is survived by her devoted husband: Jim Reynolds; daughter: Lisa Dean; son: Daniel Reynolds; grandchildren: Connor Dean and Leah Dean. Her family in Germany includes her mother: Ursula Horst; sister: Ulrike (Georg) Wiemers; brothers: Michel Horst and Matthias (Dagmar) Geertz, and her beloved nieces and nephews.
Donations In Memory of Chris Reynolds
When you make the donation below, we will already know it is In Memory of Chris Reynolds and we will send an acknowledgement of your gift to the family.

If you do donate, please consider checking to see if your employer has a corporate match policy:

If you prefer donating with a check, print out this page and mail it with a check made out to "Musella Foundation" to:
Musella Foundation
1100 Peninsula Blvd
Hewlett, NY 11557
888-295-4740 Phone
516-295-2870 Fax