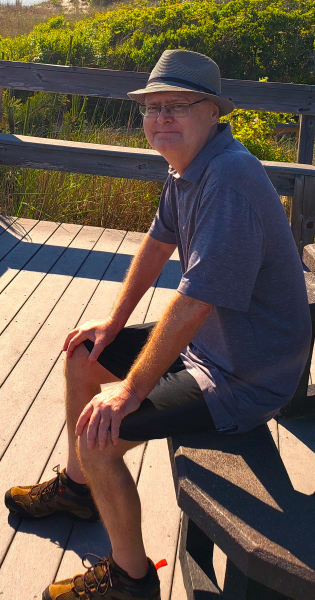 In Memory of Paul Hennigan
Paul Hennigan, 63, of Blackburn, Lancashire, UK died at his home in Kendall Park, NJ on November 4, 2022, after an 8-month battle with glioblastoma, an aggressive brain cancer.
Paul grew up in Blackburn, Lancashire, England with his parents, Terence (Terry) and June, and his sisters, Jackie and Fiona. The family lived in a pet shop for the first nine years of Paul's life, managed by his mum while his dad worked as a painter and decorator. Paul attended St Joseph's Infant School, Blackburn. At the age of eleven, Paul attended St John Rigby secondary school. Even though Paul and his sisters went to different high schools, during holidays they and their friends would disappear for the day exploring the surrounding countryside, only going back home for meals. After leaving school Paul gained an apprenticeship at The Royal Ordnance Factory, which was at the time, one of the bigger employers in the area. In 1988, to expand his opportunities (and on a bit of a dare), Paul signed on with an American employment agency and was offered a job that took him to New Jersey, USA. He expected to return within the year. But he met Patricia at the Old Bay in New Brunswick and never made it home. They married in 1990. In 1996, their first son, Liam, was born. Their second son, Jack, followed in 2001. Paul was a caring husband and proud, dedicated father. In addition to weekly library trips with Liam and sharing an interest in guitar playing with Jack, Paul could frequently be found making a proper cup of tea for Patricia.
Paul spent twenty-five years working for Seals Eastern in Red Bank, NJ, most recently as the Tool Room Supervisor. In his spare time, he liked to work in the yard, putter around the house, and walk the towpath on Delaware & Raritan Canal. He loved music, especially Northern Soul and Alternative. He liked to watch American football as well as football (soccer). A lifelong fan of the Blackburn Rovers, in recent years he had to support Liverpool or Man City to watch the Premier League.
Paul is pre-deceased by his father, Terence. In addition to his wife and children, Paul is survived by his family in Blackburn: his mother, June Hennigan; his sister, Jackie Riley and her husband, Tony; his sister Fiona Castela and her partner, Nick Blackledge; as well as nieces Nat Riley and Bianca Cerami, and nephew Chris Riley and their families. He is also survived by his family in the US: mother-in-law, Marge Melton; brother- and sister-in-law Bill and Christina Melton, his nephew, Tyler and his niece, Victoria. He loved them all.
Paul was a gentle, easy-going man who had a smile for everyone, up to his last days. He is loved and missed beyond measure.
Donations In Memory of Paul Hennigan
When you make the donation below, we will already know it is In Memory of Paul Hennigan and we will send an acknowledgement of your gift to the family.

If you do donate, please consider checking to see if your employer has a corporate match policy:

If you prefer donating with a check, print out this page and mail it with a check made out to "Musella Foundation" to:
Musella Foundation
1100 Peninsula Blvd
Hewlett, NY 11557
888-295-4740 Phone
516-295-2870 Fax