David Mark Bailey, 44, of Earlysville, died of brain cancer on October 2, 2010 in Charlottesville, VA and was welcomed into everlasting life at his place at the Table with our Lord and Savior Jesus Christ.
Born February 26, 1966, David was the son of Kenneth and Ethel Bailey, missionaries to the Middle East. For the first 22 years of his life, his home was Beirut, Lebanon, including the first ten years of the Lebanese civil war. Because of war, the family was obliged to evacuate first to Switzerland (1967), and later to Cyprus (1982). David's two final years of high school were completed in a private school in Germany because he was, as a young man, especially vulnerable on the streets of Beirut.
David attended Grove City College in western Pennsylvania, where he met and married his soul mate, Leslie McGarvey, of Emlenton, PA. During his college years he was active as a performing songwriter, playing evening and weekend gigs with a music partner. He also enjoyed choir, frat life, acting, and organizing an underground newspaper. David graduated with majors in English and Communication Arts. In the late 80's, David and Leslie relocated to the Washington, D.C. area where David worked for the U.S. government in satellite imagery analysis. His career evolved to training and then program management with numerous software subcontractors, ending with employment with Eastman Software in Massachusetts. Their daughter, Kelcey, was born in 1992 and son, Cameron, in 1994.
The day prior to moving to the Boston area, in July of 1996, David was diagnosed with brain cancer – Glioblastoma Multiforme IV (GBM). He was expected to have fewer than two years to live. Eager to have his life make a difference in the lives of others, he gave up his career in the software industry and, with a great leap of faith, launched a third career as a performing songwriter – a "troubadour of hope." Following two surgeries, radiation, experimental chemotherapy and nuclear therapy, David criss-crossed America (and Europe) singing in coffee houses and churches, for cancer conferences and cancer survivor groups for 12 years. David wrote all of his own songs, which grew out of his experiences of war and of battling a deadly cancer. He sang of faith, hope, love and of living life to its fullest each day. He experienced a recurrence of brain cancer in late 2008, recovering enough to tour in 2009 and early 2010. Enduring numerous additional surgeries and difficult treatments, David made a final tour in July of this year.
David is survived by Leslie, his wife of 23 years; his children, Kelcey and Cameron; his parents, Kenneth and Ethel Bailey; a sister, Sara Makari and her husband, Victor; numerous sisters- and brothers-in-law and eight nieces and nephews. To quote a line from one of David's songs, "The tears of the angels form a river where you can wash your pain, and even in the middle of the thunder, don't forget the love inside the rain." His theme was "There may be years of tears behind you, but right now you've got One More Day." He leaves behind him a musical legacy of 23 professionally-recorded CDs. His music and his personal testimony have affected the lives of countless thousands in this country and around the world.
The family offers deep gratitude to Drs. Henry Friedman, Allan Friedman and David Reardon at Duke and Dr. David Schiff at UVa and their caring staffs. We also offer loving thanks to our family of caregivers at the Hospice House, Hospice of the Piedmont, Charlottesville. Memorial gifts are welcome and may be made to Blue Ridge Presbyterian Church, 6566 Spring Hill Road, Ruckersville, VA 22968. Cick HERE to donate to the Blue Ridge Presbyterian Church. Half of those gifts will be equally divided between the following brain tumor organizations: The American Brain Tumor Association, the Preston Robert Tisch Brain Tumor Center at Duke, Gray Matters Foundation, the Florida Brain Tumor Association and T.H.E. Brain Trust.
David was a charter member and Elder at Blue Ridge Presbyterian Church in Ruckersville, VA, where he co-chaired the Evangelism Committee. Baptized into the Covenant, he was a lifelong Christian and we will have a Celebration of his life and of the Resurrection at a Memorial Service on Tuesday, October 19, 2010 at 2:00 pm at Meadows Presbyterian Church in Charlottesville, VA. His daughter suggests an attire of tie-dye, if you like. David would be wearing jeans and ask you to check out his website, www.davidmbailey.com.
---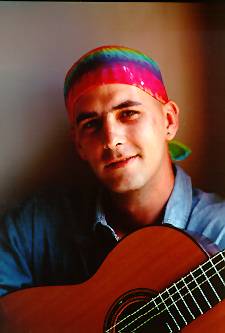 Below is a copy of his survivor story, which has given hope to tens of thousands of brain tumor patients.
Brain Tumor Survivor: David M. Bailey
'Live Forever'
Today is September 26, 2008. I was diagnosed with a GBM in July 1996—They told me I had 6 months. They were wrong. Despite what you might hear, , hope is a very real thing, and with every passing day, there are more and more reasons to hope. ; I was given 6 months and that was over ten years ago. Following is a summary of my treatments with some additional thoughts and resources that I hope you find helpful.
The Diagnosis & First Steps
I was diagnosed with a GBM IV in July of 1996. After a month of excruciating headaches, I fell over one morning; family called an ambulance, and then was life-flighted to a larger hospital where I had emergency surgery July 3 to remove a baseball-sized tumor.
The surgery was successful. After a crash-course on malignant brain tumors, we realized we had no time to wait. We saw a regular medical oncologist, as referred by the surgeon. He gave us little hope and only offered a clinical trial using chemotherapies that had not really shown much success in treating GBM - plus, and it was a 'randomized trial' which meant that a computer would randomly pick who would actually get the drug - an important method for research, but not one I was interested in for my care. He then did the very best thing he could have, which was to tell me I needed to see a NEURO-oncolologist - some one who specialized in heads..
I searched on the Internet and found an amazing virtualtrials website that listed all clinical trials for brain tumors in the whole country. I printed out a list and began cold-calling contact persons for various clinical (experimental) trials across the nation. I also made an important decision - I figured that if there really were no cure, it was more important to find the right PEOPLE than the right DRUG - first of all because I'm not a neurologist who can understand them all and more importantly because drugs will come and go, work and fail, but the right people will stick by your side through it all.
I was lucky - My third call was to the brain tumor center at Duke University. Dr. Henry Friedman returned the call - at 10:30PM! . He said " david, you're too young to die (30) come down, page me, and I'll see you immediately". We collected my scans, microscopic slides, and embedded paraffin slabs from the biopsy and drove to Duke the next day. Though Henry is in research and conducts so many trials, if a patient is not responding positively to an experimental treatment, he pulls them off of that trial and tries something else. There was a lot of comfort in knowing he had a whole arsenal and was willing to use it- The patient's treatment is much more important to him than the research results. With trust came a huge sense of relief - Because of that trust, we didn't feel a need to spend hours seeking other opinions or therapies from around the country - because of that trust, we found an ability to face the facts, leave the medical calls to the team and move on tackle the intellectual, emotional, and spiritual needs. We never looked back.
The Treatments
My scans showed a lentil-sized piece of tumor that remained post-surgery. -- By Thursday of that week we were home with the first round of pills for a new promising chemotherapy trial called Temozolomide (Trade name, Temodar) I took the pills every night for five nights, then had three weeks off I had some initial difficulty with nausea and fatigue, but nothing that medications and naps couldn't handle. Though it's not a 100% effective-magic drug, it worked for me - After just one month, the tumor was gone.
I took three more rounds of the Temodar to complete the trial and continue fighting any invisible cancer cells. . I was about to start the important 3-D planning for conformed field external beam radiation when they discovered a second, old, low-grade tumor. At Thanksgiving of 1996 I had a second craniotomy to remove this tumor. At that time, I also had a port installed into the tumor cavity. . Just before Christmas I began six weeks of radiation. In March of 1997 my scans were still clear - but Henry and I have both been believers in not standing by and waiting for a re-growth - so when we were winning, we treated. . Henry then suggested that I have the monoclonal antibody procedure done, for which the port had been installed. Simply put, Monoclonal antibodies are radioactive mouse antibodies which are injected through the port straight to the tumor cavity. The isotopes find the cancer cells and destroy them with their radioactivity. I was in isolation for seven days while radioactive - It sounds spooky, but it was painless. [Since I took this treatment, they have managed to decrease the length of stay by using antibodies with a shorter half-life] Then in August '97, My MRI scan began to show some enhancement. I started another chemo called CCNU, which was taken by pill in one dose per six weeks. The CCNU did cause my platelet count to drop considerably, but not enough to require a transfusion. I took vitamin B -12 to boost bone marrow production and that seemed to help. I found anti-nausea medication a MUST on dosage day. In October, the enhancement was more pronounced -. Doctors tried a PET (or SPECT) scan to try to determine whether it was live tumor or necrosis (dead tissue caused by radiation). However, the PET scan was inconclusive- and had been proven incorrect in numerous cases over the past several months.) . I did one more cycle of the CCNU but in December the "enhancement seemed to have actually thickened. So in January 98, a second biopsy proved it to be necrosis. .
Following the good-news biopsy, I still went back to the course of treatments, hammering away at whatever might still be there. I did two cycles of VP-16, an oral drug taken daily for 21 days, off 7 days. My blood counts were fine throughout the VP-16 and with anti-nausea medication, managed some discomfort. Next, I took Tamoxifen for many months - a hormone therapy generally used in treating breast cancer, but has shown promise in the treatment of brain tumors - no effect on blood counts and no nausea. That was in 1997 and was the last active treatment I took.
The Annoying & The Important Stuff
The scans continued to be clean, but I started having some trouble with seizures in 1998 - my daily 300 mg of Dilantin was no longer doing the job - we tried upping the dose, then we tried adding Neurotin, but neither worked and left me terrifically groggy. - Finally, we tried adding Lamictal, a relatively newer anti-seizure drug on the market. It' did the job for a long time and I was gradually able to drop the lamictal and am now back to just the Dilantin. I also take a muli-vitamn, extra Citamiin C, as well as Essiac Tea. Has it helped fight the tumor? I'm not sure, but I haven't had a cold in years, and I used to get them all the time when I was a 'healthy' person.
In late 1998, we noticed a loss of peripheral vision on my left side - but in both eyes, so the field cut is pretty dramatic. . I tried 'prism' glasses to help correct, but didn't find them effective, so I just learned to be more careful looking around (!) In January 2000 I did a 3-hour euro-psych test to get a baseline reading on various cognitive tasks. - Final report said I still thank fine, but was perhaps a bit slow when changing topics - but some will say I've always been that way....
So I've lost all left peripheral vision , have some balance issues, tire quickly, and still have the occasional seizure , but these are really, in the end, just annoying things- Life goes on and I'm still here to be a part of it. I'm on a 1 year checkup cycle and on July 4, 2007 will celebrated 11 years of surviving the beast.
Treating a brain tumor is a complex thing- unlike a broken bone, you can't just treat the physical ailment - the tumor attacks who you are, and thus your intellect, feelings, and spirit area all threatened and must be cared for - and it's too much for one person to do it all, especially when you're fighting hard physically.
I found three things that put my life back into balance.
Faith; For me, faith in a God who loves me and would stick it out with me no matter what, a faith I had started to lose over the years - the foundation of the house of my life. .
Family & Friends -; the walls of my life behind which I could find shelter from the winds, and could lean upon when weary.
Future - the new windows and doors of my life that showed me the possible, and gave me the chance to start believing in dreaming.
ALSO, I stopped asking 'Why me" and changed the question to 'What now?" -- much more productive and healthy question. I think we all have a dream for a reason and I think we all have the time we need to make it happen. In some ways, we are the lucky ones because we are given a chance to really understand how precious life is and how fulfilling the moments can be. I began a new life as a performing songwriter and have since released 15 CDs and performed in 44 states, trying the share the message of hope I have experienced. I think looking out to help other people is a great way to help your own heart.
Reminders & Resources
The Doctors are incredible people, but only human - Remember that whatever they tell you is ultimately just their educated guess. They are proven wrong every day. If 'there's one chance in 500, someone's gotta be the one" Never stop thinking that you're the one.
If there is a brain tumor support group in your area, join it. One of the greatest comforts and strengths you will find is in the sharing with others - particularly as you discover that you are in a position to help others - and as you do so, will help yourself. It's a magic that never fails.
Duke Info The Duke Brain Tumor Center, including the family support team, can be contacted during business hours at 919) 684-5301. Their policy is to return your call within 24 hours.
If you need to speak to Henry right away, you can page him at 919-970-5656. Feel free to use use my name as a reference- He will probably call late at night and has been known to speak quickly. - Be sure to have your questions ready so you don't forget. He always does better than his best.
Online support groups These are astounding resources where patients, caregivers, and medical professionals from around the world ask questions, make comments, and provide answers to just about any thing you can think of. There are many groups for just about any topic relating to brain tumors that you can imagine. The 2 biggest general brain tumor groups are the BrainTMR List and the Brain-Temozolomide group. I've made countless friends on the lists who are a big part of my life today. To learn more about them and how to join, visit http://www.braintrust.org/ and https://virtualtrials.org/lists.cfm
I am on tour around the country pretty much all the time and would welcome the chance to meet you if I'm in your area.
Websites
There are A LOT great websites with brain tumor info - I suggest starting with the following:
I also have a growing collection of resource links on my site where you can also learn more about my background, my music, and my tour schedule.
Wishing you Great Peace -
live

hope
info: www.davidmbailey.com
music: www.cdbaby.com/dbailey

david
---
Update: 11/21/2008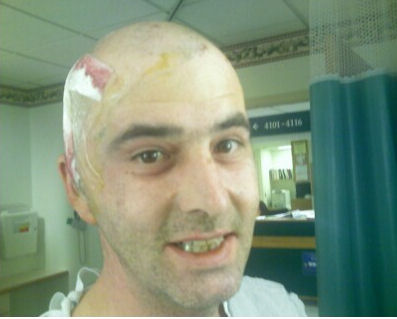 David had a little setback...something turned up on his MRI and he had another craniotomy to remove it yesterday. He is feeling good today.