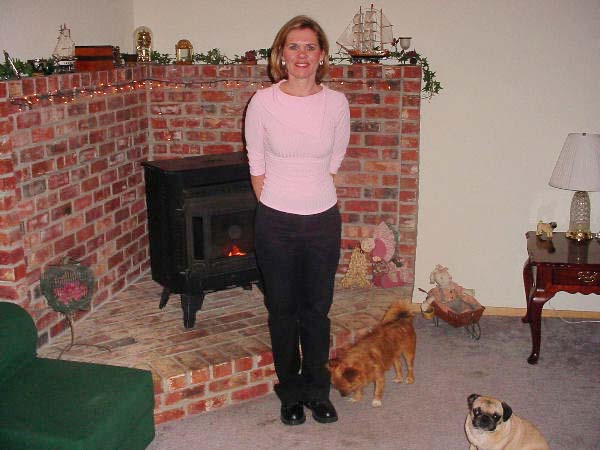 Debbie P. – Diagnosed July 13, 2005

Many families have struggled with the pain of learning that their loved one has a primary brain tumor known as Glioblastoma Multiforme or GBM, which generally indicates a terminal condition within 2-years of initial diagnosis. Everyone has a story and some are particularly heart-breaking because the person was either a child or the breadwinner of the family, was married, had young children still at home and the diagnosis alone is difficult for the patient. Our family wishes them, their families and friends the best and our hearts go out to them. We would like, at this time to share our success story, that of our Debbie P., written by her husband, Curt.

Debbie is married and has three children and three grandchildren. Debbie first moved to Washington State with her family in 1994. At that time she enjoyed personal fitness, working, and doing activities with her husband and at-that-time young children. Debbie was very active supporting her daughter, Andrea in dance & figure roller skating. Debbie worked at a local Safeway as a courtesy clerk for a little more than 10-years until her diagnosis in July 2005 at the age of 46-years-old. At the time of her diagnosis, Debbie was a smaller-build attractive blonde gal and had always been quite healthy, active and physically fit all of her life so this diagnosis was a particular surprise. Debbie's first brain surgery was on July 15, 2005 in Vancouver WA. Following surgery, Debbie was given a 12-month prognosis. Debbie then underwent concurrent chemotherapy and radiation treatment, the normal standard of care for a Glioblastoma Multiforme diagnosis. Eventually, her treatment was referred to the University of Washington Medical Center, Seattle WA. Debbie decided to try a non-FDA approved, off-label risky chemotherapy treatment which likely was definitive in her long-term survival.

Debbie has had a total of two life-saving craniotomy's (brain surgeries) and three cranioplasty's (intensive scalp re-constructive surgeries), the last surgery March 31, 2009 in Seattle. Debbie also underwent experimental chemotherapy, described above for over a year. Debbie had a rough time during the 2009 year. We almost lost her several times. Debbie spent over a month in the hospital at the University of Washington Medical Center. Her family had to commute to Seattle to visit her during this time.

Debbie's general condition continues to be challenging, however she is currently doing well. Debbie's stable MRI in July 2015 is an indication of her progress and determination. Due to seizure activity, Debbie has had to learn to walk again, is making fast progress but still cannot do many of the activities she so much enjoyed prior to her diagnosis. Her pickup truck that she purchased new stays parked in the garage, gathering dust rarely driven. Her favorite toy a 750- Kawasaki Jet Ski sits on the back patio, last used in 2003 reminded by the 2003 expired tags displayed on the hull. Both are waiting perhaps for the day when she can again enjoy them. Among other things, Debbie misses being able to take her Terrier out for walks like she did prior to her diagnosis.

Debbie's belief in God and her ability and willingness to continue with difficult treatment's can be attributed to her survival. Debbie always said that she was going to "beat this cancer". Her family has nick-named her "a tough-turkey" because of all of the obstacles that she has had to over-come.

We are grateful to all of the medical staff who has worked her case. The pharmacists and doctors that conducted her diagnosis, surgeries, chemotherapy treatments and radiation treatments saved her life. Curt, her husband is grateful to have such an understanding employer that recognizes there are times that he needs to be with Debbie and the family.

Debbie's pretty blonde hair has been replaced by a nice soft burnet color due to her intense chemotherapy treatments. Interestingly though her hair has completely grown back and is full of luster. Debbie's diagnosis was difficult for her family as well, particularly her children. Her daughter, Andrea had just turned 13-years-old when her mom was diagnosed and currently continues to provide care for her when her husband is at work. Andrea attended a special High School during her senior year so she could care for her mom. "Caring for my mom at a time like this has made me appreciate what I have and has given me a special outlook on life". "My dad and I had to give my mom infusions twice per day for over a year" says Andrea. Consequently due to her experiences caring for her mom, Andrea has just completed Charter College so she can work in the medical field as a Medical Assistant/Phlebotomist. "I have learned so much about the medical field and caring for others by directly participating in my mom's care" Debbie's son Brad, a local carpet cleaning business owner also checks upon her daily between carpet cleaning jobs. And Craig the oldest makes trips to see her as he lives out of the area. Debbie currently enjoys being with her family and riding around in the family's green 1930 Ford Model A Coupe. Debbie is easily recognized in the community because she currently must wear a protective black helmet.

Debbie's Diagnosis:

A lot of people ask us "how did we find out" Debbie had a Glioblastoma Multiforme tumor so here it is: Debbie suffered headaches for approximately 6-weeks prior to her diagnosis of July 13, 2005. These symptoms were treated at a local Urgent Care Center as a sinus infection. On a Saturday evening, July 8, 2005, Debbie again went to the Urgent Care Center (on her own) and she continued the treatment for sinus infection. Sunday evening, July 9, 2005 (the Sunday prior to her Wednesday, July 13, 2005 Emergency Room admission), Debbie was noticed by her husband that she was stumbling on an escalator at the mall. The following day, Monday, July 10, 2005 they returned to her regular doctor and was told that Debbie also had an inner ear infection and that was the reason that her equilibrium was off. The ear infection, Debbie was told was caused by her sinus infection.

On early Wednesday morning, Curt and the kids noticed that Debbie was difficult to wake-up. They thought it was due to her sinus medications. Later on Wednesday morning, July 13, 2005, Debbie was admitted to the Emergency Room at the local major hospital after convincing her to go. Curt was of the belief that she had somehow suffered a stroke, yet still doubted it as at 46-years-old she was very healthy and physically fit. Debbie was lethargic, unable to completely dress herself on her own, not talkative (unusual for Debbie) and had stroke-like symptoms. "We knew it was serious and suspected that it still could have been from her medications (perhaps during the day she had lost track of her medication intake and had taken too much medication…)."

The surgery took place on July 15th after taking Decadron to reduce cranial pressure and swelling. Later after recovering from her surgery, Debbie described her situation. One time she was talking to a friend and she notice that her friend "changed colors".

Curt and the family (Craig, Brad & Andrea, her children) had noticed changes in Debbie that were diagnosed by her doctor as "going through the change of life". Although, early this seemed to be a reasonable assumption by Curt and the kids. Curt noticed behavior changes as early as the August prior to her diagnosis (August 2004).

Current: Debbie celebrated being a 10-year Glioblastoma Multiforme survivor on July 13, 2015. Debbie suffers from the typical symptoms and challenges of her diagnosis, seizure activity managed by appropriate medications, weakness on one side (left for Debbie), balance issues, mental deficits and comprehension deficits. Debbie's anti-seizure medications also contribute to her mental state issues, lack of situational awareness, confusion, lack of determining reality to non-reality and other mental problematic issues.

Surgery Dates:
July 15, 2005, Southwest Washington Medical Center, Vancouver WA. Partial Gross Resection.
March 16, 2006, University of Washington Medical Center, Seattle WA. Total Gross Resection.
July 14, 2008, University of Washington Medical Center, Seattle WA. Cranialplasty. Right Temporal Bone Flap Removed and cleaning (no flap until November).
November 13, 2008, University of Washington Medical Center, Seattle WA. Cranialplasty. Right Temporal Bone Flap Removed and replaced with titanium plate.
January 6, 2009, University of Washington Medical Center, Seattle WA. Cranialplasty. Right Temporal Bone Flap Removed, scalp cleaning (no flap).
March 31, 2009, University of Washington Medical Center, Seattle WA. Cranialplasty. Right Temporal Bone Flap Removed (no flap).

Thank you for your interest in our story!

Written by her husband of 34 years, Curt P.
---
Update: March 17, 2016

Debbie just had an MRI at the University of Washington, Medical Center and follow up appt. with her neurologist yesterday, March 16, 2016. Deb's scan remains stable with no tumor present. This coming July, Debbie will be an 11-year GBM Survivor! No change in her health. We still continue trying to manage seizure activity as she had one yesterday, the second seizure since November. She has a 4th grandson plus two more grandchildren on the way with one due in 4-weeks since the last update! Debbie continues to enjoy getting her hair and nails done, seeing the grand kids and in the WA Summer riding around in our 1930 Ford Model A Coupe. Deb has lost weight but still has balance issues preventing her from walking thus uses a wheel chair.
---
Update: June 10, 2016

Debbie shall celebrate being an 11-year Glioblastoma Multiforme survivor on July 13, 2016. Debbie now has five grandsons and a granddaughter on the way this September (a basketball team with a cheerleader)! It is amazing that she is able to be a valuable part of her grandchildren's lives; we are so grateful. Our daughter who was only 13 years old at Debbie's diagnosis now has a 2-year-old son!

Debbie had a stable MRI in January, 2016 with no GBM on an MRI scan since March, 2006. Still, Debbie suffers from the typical symptoms and multiple challenges of her diagnosis: seizure activity managed lately very well by appropriate medications, weakness on one side (left for Debbie), balance issues, mental deficits and comprehension deficits. Debbie's anti-seizure medications also contribute to her mental state issues, lack of situational awareness, confusion, lack of determining reality to non-reality and other mental problematic issues. Debbie lives a much simpler life these days (see, she is smarter than the rest of us)! Deb enjoys watching movies, seeing the grandsons (and soon the new granddaughter), her pet dogs, and is looking forward to riding around in her 1930 Ford Model A Coupe this summer in town as Western Washington weather permits. Debbie will also spend time on the back porch sipping on Washington wine and looking at our great garden.

Debbie will celebrate her 35th wedding anniversary with her husband this August.

One point, we have had better luck controlling her seizure activity. We believe that there is a direct correlation between her past seizure activity and urinary tract infections (UTIs). If you are a caregiver for a GBM patient, I recommend that you document any seizure activity through a log including date, time and intensity of any seizure activity. With our log, we were able to (we believe and so does Deb's doctor) document a direct link between seizures and UTIs. By recognizing a day or two in advance that her stability has decreased and a urine sample, then appropriate early UTI treatments, we believe we have solved some of her seizure activity occurrences.

All is good and we look forward to a nice summer with Deb.

(From husband Curt)
---
Update: April 5, 2017

Due to severe winter conditions in Western Washington this year, Debbie spent time with her family in California, coming home this June. She enjoys time with her parents & siblings and their families! She is undergoing extensive physical therapy and conducting brain-stimulation activities. Debbie did regress cognitively since our last update and still uses a wheelchair to get around.

Debbie has a new granddaughter now and she had a special emotional moment when she first held her last Fall.

Seizure activity has significantly improved (i.e., much less seizures occurring) thus my message above to caregivers to watch closely for any UTI and to keep good medical notes including a "must" for a "Seizure Log" used to document any and all seizure activity.

We look forward to Spring & Summer weather improvement so Debbie can spend time out-of-doors.
---
Update: September 3, 2018

Debbie has reached 13 years since her initial diagnosis, incredible! We had a nice party for her. Yes, Debbie can still have a little bit of Washington wine too.....but not much!

Debbie had a very difficult year with seizure activity. This has been our primary setback. The addition of generic Bactrim took care of it, Debbie has not had a seizure in several weeks, and she has improved physically & cognitively. The seizure log helped us pinpoint reasons for the seizures. This log is very important. We also purchased an O2/pulse meter and monitor her O2 levels. Insurance just paid for oxygen in the home as we were surprised that her O2 levels are periodically low. Again, we have an extensive O2 log that was used to support insurance paying for the O2 set-up. Seizure, oxygen & pulse logs are a must and I highly advise creating and maintaining these data if you are a primary brain tumor caregiver.

Physically, Debbie is slowly losing her ability to stand. First walking and now she can only stand up in the mornings. Thus, she needs caregivers present most of the time.

Debbie continues to be stable in all other areas. Stable CT and MRI scans too. She enjoys her grandchildren (we found out 7th grandbaby is due January 2019), TV movies, coffee and we are hoping for a late Fall so we can continue to enjoy the out of doors and snacks from our garden which she likes!
---
Update: June 8, 2021

Debbie is doing well. She has had a fairly stable year with less seizures. COVID-19 threw in obstacles for all of us but particularly for those chronically ill. Caregivers and family really must take exceptional precautions and this cannot be taken lightly.

Therefore, we have been very isolated....all precautions taken but that equals minimal contact with family and grandchildren which has been hard for her. We look forward to the time when we can all put COVID-19 behind us.

Her health is stable; however, there is some degree of degradation as she can no longer stand up, even with assistance. Her level of awareness may have even improved. Deb interacts more with us. We must always be working with her physically and mentally with activities and stimulating her. That is a good thing for all of us. And, as noted, less seizures in the Seizure Log this past 12-months!

The BraunAbility Turny EVO handicap seat adaption to our Ford F-150 4x4 SuperCrew truck, now 2-years-old, has worked out fantastic and we are able to transport Deb comfortably and safely with this handicap vehicle as she is protected in case of an accident by all of the Ford truck factory safety features.

Debbie will be a 16-year survivor this July 13, 2021 which is an accomplishment as we all well know. We call Deb a "Tough Turkey" for a very valid reason. We shall celebrate within a small group of family.

We look forward to the nice Western Washington weather and interaction with family this summer.

Our message to those working through issues with a Primary Brain Tumor, specifically Glioblastoma Multiforme, is to have hope as long as practical, be willing to try new things and treatments and enjoy the good days but work through the ones that are not as good with as positive an attitude as possible. It is easy to manage the good days, it is the harder days that set up the survivors, caregivers and family on the best course to work through this together.

Take care everyone!
---
Update: Jan 15, 2022

Deb had a good stable year considering COVID-19 concerns. She did not get COVID and is fully vaccinated and boosted. Debbie had a total of five (5) seizures during 2021 which is exceptional. Clearly we have her anti-seizure medications dialed in. Deb is stable however she lost her ability to stand up (has not been able to walk for a while now) but is otherwise doing well. We all stayed fairly isolated this year due to COVID but were able to take Deb to California to see her family in the fall.
---
Questions?
Send a message to Debbie!