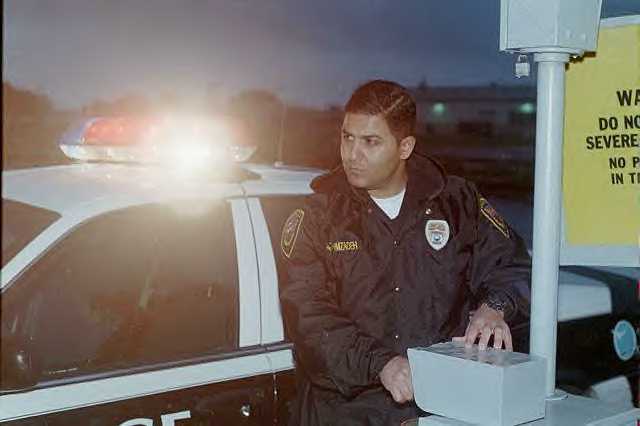 "I was guided by something the whole way."

On Jan. 4th of 2001, I suffered a grand mall seizure, while on duty, having lunch which led to finding a brain tumor in my right temporal lobe. Luckily a fellow Police Officer and I were sitting down having lunch when this happened. I was rushed to our local ER in an ambulance. Prior to the seizure I experienced small temporal lobe headaches when I was waking up, 3-4 times per month for almost two years. I got used to it, as it would go away after a few hours. After that 2-3 unexplained nose bleeds in my sleep during the year prior to the seizure. Then my left arm went numb for 2-3 days, two months before the seizure. I reported it all to my doctor, and he did nothing about it. I had just turned 30 at the time, just starting to advance in my career as a Police Officer, with almost five years on. I was devastated. I already had established my reputation as a Police Officer with the quality of work that I was doing. I had already been selected as a Field Training Officer in 2000. I had already earned two commendations from our Ventura County District Attorney's Office, and my first 10851 V.C. Award from the State/CHP for recovering stolen vehicles. My only option was surgery. I was told that I had to have it immediately. I went to UCLA, went to two neuro surgeons there. During a brain mapping test, the memory test went bad, which led the second neuro surgeon to believe that he could only remove 50-60% of the tumor, and I would have to have treatment for the rest of my life. I declined that option, and decided to get a third opinion. My family and friends all did some research on the internet, and came up with one name: Dr. Keith Black. I went to Cedars Sinai, and met with Dr. Keith Black. His knowledge, grace, and confidence made my decision easy. I chose to have my surgery done by Dr. Black. I'm still thankful I did today! He gave me my life back! I was guided by something the whole way. His golden hands are why I'm at where I'm at today! I later found out that the reason my memory test went bad at UCLA was because I was slightly over-sedated. Thank You to whoever did that ;-)

Feb. 6th 2001, I had surgery by Dr. Black. I was released from the hospital two days later. The tumor was completely removed without causing any injury or damage. A week later the final biopsy came back on the tumor. It was determined to be a grade 3 anaplastic astrocytoma with grade 4 cells. Not what I had hoped for. On the scans I was told that it looked benign. My options were radiation, then chemotherapy. I just wanted to get back to my life and career as soon as possible. I knew it was going to be a rough road. I was later told that most people with my type of tumor don't survive. That inspired me to prove them wrong. I'm kind of stubborn like that ;-) Beginning two weeks after surgery I had almost seven weeks of daily radiation therapy which was the most difficult part of the whole experience. There were days when I would go to radiation and come home doing nothing else but eating, sleeping and resting for the next day. I looked forward to the weekends because there was no radiation. I finished radiation in April, 2001. I was advised that chemotherapy would be a very wise decision in my case. I am a gambler, but didn't want to roll the dice on this one.

I went to a local oncologist who told me that traditional chemotherapy, IV injections, was all that was available for me. He said that it would only have a 50-50% chance of working for a brain tumor patient. This obviously caused great concern for me. Why would I want to get sicker if there was only a 50-50% chance of it being successful? He told me that if I were his son, he would refer me back to UCLA for the post care. I sincerely thank Dr. Reynolds for his honesty and integrity. I listened to his advice and went to Dr. Tim Cloughesy at UCLA. Dr. Cloughesy informed me of a new type of chemotherapy (pill form) that was out, called Temodar, which was brain specific, and FDA approved in 1999. I didn't hesitate, let's get it done! Twelve months of chemotherapy (Temodar) started in July of 2001 with monthly MRI scans and doctors visits. Again I was guided by something, angels I presume. I've been in good hands under Dr. Cloughesy's care ever since. Dr. Cloughesy's amazing kindness, care, diligence, knowledge, experience, and support for his patients make it easy.

Sometime around October 2001 my doctor said I was doing so well that I convinced him to let me go back to work part time, doing desk work. For me it was heaven to just be back to my career, even if it was part time. I was bored as well, as my family live in LA and the only other thing that kept me occupied at the time was doing light weight lifting, playing basketball, running, or walking my dog just to get out of the house. My family, friends, and second family at the Oxnard Police Department were there with me the whole way. Being around such good people inspired me to get back to my career/normal life as soon as possible ;-)

Jan. 2002, I was ready to get back in the saddle. I went back to work full-time on patrol. Doctors said to do anything that was therapeutic and makes me happy. Keeping the brain happy and positive was the prescription. Being a Police Officer was what made me happy, and being on the sidelines for almost a year was tough to swallow. What I needed to do was very clear. As soon as I went back I resumed my position as a Field Training Officer. My supervisors and peers saw that I was still the same Kio not lacking in quality, performance or skills. With the remaining cycles of chemotherapy I took about one week per month off from work for the treatments until I was done. I didn't want to be sidelined any longer. I went back to work with vigor taking criminals off the streets to make up for lost time. I was still doing the quality work of work that I was known for, but not the quantity.

In June of 2002, while I was on duty in uniform, I ran into the doctor that had told me I wasn't going to live. He had last seen me in April 2001. After I picked his jaw up from the ground, he told me that I was a "walking miracle", as I showed off the one inch of muscle that I had regained on my arms. You can go to the best doctors and have the most advanced treatments and medicine, but the rest falls on you!

In 2003, I earned my third commendation from our Ventura County District Attorney's Office, and also my second 10851 V.C. Award from the State/CHP for recovering stolen vehicles ;-) I still hold those records at the Oxnard Police Department ;-)

Sadly in 2004 I was retired from the career that I loved, because it became too difficult and demanding on my health. But I tried to make it work for 3 more years, because of my love and passion for my career. After that I quickly became aware that I could no longer work full time in any capacity. In 2005, I went on to work part time, protecting celebrities. Which was the perfect scenario for me, given my health status. I was even hired by Playboy at that time ;-) Not a bad retirement job ;-) I was still protecting and serving, but in a much less demanding, and less dangerous environment. It gave me purpose and I enjoyed it. From 2007 forward I worked part time for Playboy only. In March 2010, I had a small seizure going in to work on my fourth day during that week. Dr. Cloughesy advised me to put work aside or work less. I promised him that I would work less, and not overexert myself, given my new limitations. Who would want to stop working for Playboy? Sadly in 2011, I had to put that fun, easy work aside, as it became too demanding on my health. I miss working for Hef and the girls. All is well, all we can do is adapt and move forward. Can't say I didn't try.

By the way, this cancer was determined to be a work related injury for Police Officers and Fire Fighters because of our radio equipment. Prolonged exposure to EMFs (Electromagnetic Fields) and RFs(Radio Frequencies) from our radio equipment. Given that fact I later found out that cell phones carry stronger EMFs and RFs. I've kept my cell phone away from me ever since. If I am on it, I use a wired head set. Please keep this in mind, if you use your cell phone regularly, especially for work. Make it a habit to use it wisely and safely.

Where's your heart, where do you want to be?

I chose to fulfill my goals, remain in my career, continue on and impress my family and friends. I chose to live. My story was filmed up until the end of radiation and was airing on Discovery Health. I want people in my situation, or any other life threatening situation to know that:

YOU CAN CONTROL YOUR OWN DESTINY

Be strong, be positive, be active, never quit, keep the faith! and always remember that someone else has it worse than you do.

I've followed these ideals, and I'm now an 18 year Survivor as of January 4, 2019 !

Also regarding the stage IV stomach cancer that I was dealing with last year, I did 7 rounds of Immunotherapy treatments Keytruda from Jan-Aug. All the cancer was GONE!! Keytruda is an amazing miracle drug as it wiped out stage IV cancers in my body very easily. The treatments were 30 minute infusions, very light and smooth, the only side effect that I felt was a little fatigue. My oncologist had me do 3 additional rounds from Oct.-Dec. to finish this off for me and kill off anything that isn't visible in the scans. He said since I have had such great success with the Keytruda, this should do it for me. Just monitoring by Pet CTs for the next 5 years. I'm already 14 months past that, and I wouldn't be here without the Keytruda.

Godspeed

Kio Ebrahimzadeh, Southern, CA
---
Final Update 11/24/2020
Kio Ebrahimzadeh, 50, born on October 26, 1970, in Detroit, MI, United States, passed away November 24, 2020. He resided in Simi Valley, CA at the time of his passing. Arrangements are under the direction of Forest Lawn, Hollywood Hills, California.
---
Questions?
Send a message to Kio!